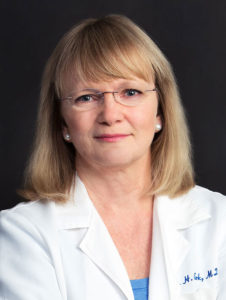 Dr. Clark is a board-certified gynecologist and Fellow of the American College of Obstetricians and Gynecologists.  She is also a North American Menopause Society Certified Menopause Practitioner.  She is fellowship-trained in reproductive endocrinology and infertility.  She provides the following services to her patients:
Preventive well-woman care, including Pap smears
Routine screening blood work
Screening for breast cancer
Evaluation of abnormal Pap smears
Screening and treatment for sexually transmitted infections
HPV vaccine series
Birth control counseling and management
Preconception counseling
Management of polycystic ovarian syndrome (PCOS)
Management of premenstrual syndrome (PMS) and premenstrual dysphoric disorder (PMDD)
Hormonal management of migraine headaches
Management of low thyroid function
Osteoporosis prevention and management
Midlife sexual concerns, including decreased libido
Genital (vulvar) skin disorders, such as lichen sclerosus
Biographical sketch
Dr. Clark received her undergraduate degree with honors in chemistry at the University of Alabama, where she was elected to Phi Beta Kappa.  She completed her medical training at the University of Alabama School of Medicine, where she was elected to Alpha Omega Alpha, the national medical honor society.  She then went on to a residency in obstetrics and gynecology at the University of Florida College of Medicine.   After this, she completed a fellowship in reproductive endocrinology and infertility at Duke University.
She is a North American Menopause Society Certified Menopause Practitioner (NCMP), one of only five in the Triangle area of North Carolina. She uses her background in reproductive endocrinology to assist women in treating a variety of hormonally-related problems, and to provide expert management of those issues using bio-identical hormone therapy. She is also a member of the International Society for the Study of Women's Sexual Health (ISSWSH), and is able to assist her patients with sexual issues.
After being in a group practice of general obstetrics and gynecology for a number of years, she opened a solo practice specializing in office gynecology, women's wellness, and menopause in February 2009. She specializes in nonsurgical management of gynecologic problems, especially those related to hormonal issues.
Appointment Schedule:
Tuesday – Friday: 8:30 AM – 3:45 PM
Insurance and Appointment Fees:
Dr. Clark is in network with BCBSNC and most other BCBS medical insurance plans.  For other insurance plans, payment at the time of service will be required, but charges will be submitted as a courtesy so that you can be reimbursed directly by your insurance plan.  Dr. Clark is not in network with Medicare, and does not provide prenatal care.
Professional memberships:
Fellow of the American College of Obstetricians and Gynecologists
Member, North American Menopause Society