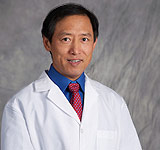 Wunian Chen, MD, LAc
Wunian Chen, LAc is one of the leading acupuncturists and Chinese herbalists in the Triangle. He was born and raised in Wuhan, China and was inspired to a career in medicine at the age of 16 when his father suffered severe back pain that was cured completely by acupuncture. Dr. Chen studied both Western and Chinese medicine at the Hubei College of Traditional Chinese Medicine, receiving the equivalent of an MD degree in 1983. He began the practice of acupuncture, herbal medicine, and western medicine in the Department of Internal Medicine in a large community hospital in Wuhan. Dr. Chen moved from China to North Carolina in 1990 and earned certification of his U.S. MD degree by the Educational Commission for Foreign Medical Graduation, and obtained his U.S. Diplomate in acupucture. He has been on the faculty of UNC School of Medicine since 2002. In the United States, he is licensed to practice Oriental Medicine.

Acupuncture and Herbal Services:
Dr. Chen's practice offers treatments for a wide range of conditions, including headaches, back pain, joint pain, stroke, hypertension, depression, hot flashes, fatigue, and fibromyalgia, among others. Dr. Chen mixes his own herbal remedies for patients by request.

Appointment Schedule:
Tuesdays, Thursdays, Fridays, and Saturdays
Appointment Fees:
Initial Acupuncuture Consult and Treatment with Dr. Chen $120
Follow-up Acupuncture Treatments $75

Note: Acupuncture at the Center is fee for service only with payment due at the time of the appointment. A receipt for treatment is provided.